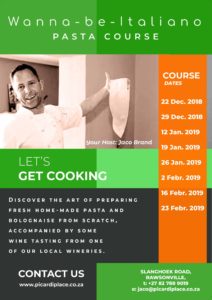 Pasta, pasta, glorious pasta….. Pasta is almost always a favorite meal. Whether you have it hot or cold, with meat or without. It is such a cozy meal and goes well with good company and a good bottle of wine.
Most of the time when preparing a pasta meal. One of the first ingredients on the list to get from the shop is, of course, the pasta. This is the base of your meal.
There are many options available, however, I have discovered that the tastiest option is pasta made from scratch. Have you ever considered that? Making the pasta from scratch?
It is an art, involving technique and balance.
The art of Pasta making
PicardiPlace offers the opportunity to go and learn how to master the art of pasta making. The course is aimed at us, home cooks who want to immerse ourselves in the world of this glorious food.
During the course you will learn how to master the fundamental skills required to create fresh pasta, you will start the morning at 10am with a welcome drink from the host Jaco Brand.
He will also be giving a short introduction of the days' proceedings and thereafter you will be off to the permaculture vegetable garden to pick your own fresh produce.
Yes, that is correct…….. everything will be made from scratch.
At about 11:00 there will be some wine tasting from one of the local winery's and finally, you will be able to enjoy a meal that you have prepared yourself from scratch.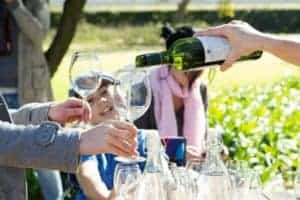 To round off the day you can enjoy something sweet and the class comes to an end at about 15:00.
8 people are required to fill up a class and the cost is R650.00 per person.
This is an amazing experience and you are able to enjoy it with either friends or family, it is also great for team buildings.
Please contact us for more information or to book…